PHILCOS ENTERPRISES
CHEECH & CHONG PARTY ON T-SHIRT
Style #: CHC1331XX
PHILCOS ENTERPRISES
CHEECH & CHONG PARTY ON T-SHIRT
$20.00
$20.00
$20.00
$20.00
$20.00
Style #: CHC1331XX
No Stores Found - try searching City, Province
Unable to get your location, please ensure that your location is turned on
Heads up
If you change your store, some items in your cart may not be available. Do you want to proceed?
View full details
Your next party calls for a fun, vintage-inspired graphic tee. This funky piece from Philcos Enterprises is emblazoned with images of party legends Cheech and Chong.
WE GET YOU YOUR STUFF FAST!!!
Most orders will Ship out in less than 24 business hours and arrive at your door between 1 and 5 days.

DELIVERY TIME ESTIMATES
Expedited (2-5 business days)
Xpresspost (1-3 business days)
Priority (1-2 business days)
For more information visit our Shipping page here
WE OFFER FREE RETURNS IN-STORE AND ONLINE.
ONLINE RETURNS
Our return center is self serve and very easy to use.
Visit our return center here to setup a return and print your shipping label.
We pay return shipping.
Visit our Returns page for more information
Customer Reviews
Write a Review
Ask a Question
09-23-2021
Wearing i.

Canada
I recommend this product
Oh wow man
Color me comfy. This shirt is dope. Color hasn't faded bought it a few months back. Good pricing.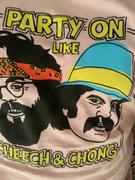 07-20-2021
Nikkolas W.

Canada
I recommend this product
Let's make a dope deal!
This shirt is the dope deal. Buy one. I did. I might again. Oh wow man l! Nice shirt they'll say.